The Rho Chi Society 2021 Election Ballot
The voting body of the National Convention shall consist of one delegate from each chapter and the National Officers. Voting delegates from one-third of the active chapters shall constitute a quorum to conduct elections. Due to online voting and the virtual annual meeting an alternate delegate will not be used.  The chapter delegates online vote in the Rho Chi elections will count as chapter attendance at the annual meeting/national convention.     
.
Proposed Bylaw Change for Vote March 5-7, 2021:

– Add Treasurer as a National Officer to The Rho Chi Society  (Yes/No)
.
National Historian Candidate
Cynthia Phillips bio
(University of South Carolina – current Historian seeking consecutive term)
National Secretary Candidates
Amanda Stahnke bio
(University of Missouri at Kansas City)

Dana Strachan

bio


(Palm Beach Atlantic University)
National Treasurer Candidate (pending bylaw change vote on 3/6/21 ballot)
* (Voting for National Treasurer will be a separate online ballot held March 19-21 should the proposed bylaw change to add a National Treasurer pass at the Annual Meeting elections. The same chapter delegates will vote in the special election.)
Brad Boucher bio
(The University of Tennessee Health Science Center  – UTHSC) 
Regional Councilor Candidates (Regions I, III-E, III-W, III-S, V, VII)
Vote for one candidate in your odd-numbered region in 2021 for a two-year term:
Region I:
Region III-East:
Cathy Worrall (Medical University of South Carolina – MUSC) bio
Carrie Griffiths (Wingate University) bio
Region III-West:
Region III-South:
Region V:
Region VII:
Don't know your region? Find it below…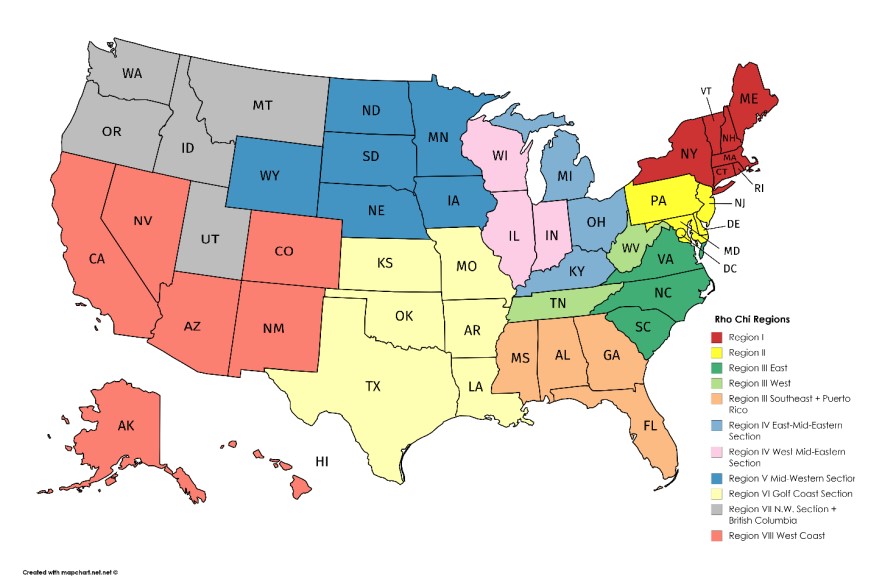 REGIONS BY STATE
.

Region

States

.
Region I – Northeastern Section
Connecticut, Maine, Massachusetts, New Hampshire, New York, Rhode Island, Vermont
.
Region II – East Coast Section
Delaware, Maryland, New Jersey, Pennsylvania, Washington, DC  
.
Region III – East

Region III – West

Region III – South
North Carolina, South Carolina, Virginia
.
Tennessee, West Virginia
.
Alabama, Florida, Georgia, Mississippi, Puerto Rico
.
Region IV – East – Mid-Eastern Section

Region IV – West – Mid-Eastern Section
Kentucky, Michigan, Ohio
.
.
Illinois, Indiana, Wisconsin
.
Region V – Mid-Western Section
Iowa, Minnesota, Nebraska, North Dakota, South Dakota, Wyoming
.
Region VI – Gulf Coast Section
Arkansas, Kansas, Louisiana, Missouri, Oklahoma, Texas  
.
Region VII – Northwestern Section
British Columbia, Idaho, Montana, Oregon, Utah, Washington  
.
Region VIII – West Coast Section
Alaska, Arizona, British Columbia, California, Colorado, Hawaii, Nevada, New Mexico