The Rho Chi Society 2023 Election Ballot
The voting body of the National Convention shall consist of one delegate from each chapter and the National Officers. Voting delegates from one-third of the active chapters shall constitute a quorum to conduct elections. Due to online voting and the virtual annual meeting an alternate delegate will not be used.  The chapter delegates online vote in the Rho Chi elections held March 3-6, 2023 will count as chapter attendance along with required attendance of the virtual annual meeting/national convention on March 18, 2023.
The positions for VOTE include: National Historian, National Secretary, Region I, III-E, III-W, III-S, V and VII Councilors, one chapter petition, and National Bylaw changes. Your vote is important to the future of Rho Chi as we make changes to our Bylaws and elect new National Executive Council members!
Chapter Petition
– American University of Health Sciences – Signal Hill, CA
(Click name above to view petition letter)
National Bylaw Changes

Download pdf Changes to Bylaws for review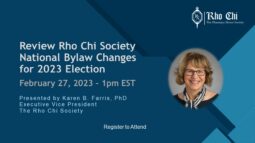 Watch Here: Online Review with Q&A
 Review Rho Chi National Bylaw Changes for 2023 Elections
 Monday, February 27, 2023 at 1pm EST
National Officer Candidates – Historian and Secretary

Historian:
Cynthia Phillips
(University of South Carolina)
Secretary:
Amanda Stahnke 
(University of Missouri-Kansas City)
Jelena Lewis 
(Chapman University)
Regional Councilor Candidates (Regions I, III-E, III-W, III-S, V, VII)
Vote for one candidate in your odd-numbered region in 2023 for a two-year term. If your chapter is located in an even-numbered region, you will vote for your councilors next year but will still vote for National Historian, Secretary, Bylaw Changes and 1 chapter petition this year.
Region I:
Sara Grossman (Long Island University)
Region III-East:
Riley Bowers (Campbell University)
Sarah Wheeler (The Ohio State University)
Region III-West:
Kristy Wahaib (Butler University)
Kelly Covert (East Tennessee State University)
Region III-South:
Courtney Watts Alexander (Auburn University)
Melissa Santibanez (Nova Southeastern University)
Region V:
Jeanne Frenzel (North Dakota State University)
Linda Sobeski (University of Nebraska)
Region VII:
Angela Stewart (Washington State University)
REGIONS BY STATE
.
REGIONS
STATES
.
Region I – Northeastern 
Connecticut, Maine, Massachusetts, New Hampshire, New York, Rhode Island, Vermont
.
Region II – East Coast 
Delaware, Maryland, New Jersey, Pennsylvania, Washington, DC
.
Region III – East

Region III – West

Region III – South

North Carolina, South Carolina, Virginia
.
Tennessee, West Virginia
.
Alabama, Florida, Georgia, Mississippi, Puerto Rico
.
Region IV – East 

Region IV – West 

Kentucky, Michigan, Ohio
.
Illinois, Indiana, Wisconsin
.
Region V – Mid 
Iowa, Minnesota, Nebraska, North Dakota, South Dakota, Wyoming
.
Region VI – Gulf Coast 
Arkansas, Kansas, Louisiana, Missouri, Oklahoma, Texas
.
Region VII – Northwestern 
British Columbia, Idaho, Montana, Oregon, Utah, Washington
.
Region VIII – West Coast 
Alaska, Arizona, British Columbia, California, Colorado, Hawaii, Nevada, New Mexico