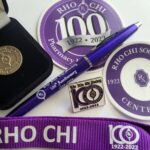 LAST CHANCE to purchase
Rho Chi Centennial Donation Packages
100 Years of Intellectual Achievement
1922-2022

Thank you for supporting RHO CHI!
As we begin our celebration of our Centennial Anniversary in 2022 there are several ways you can contribute to support student members and the future success of Rho Chi.
We now have 132 active chapters throughout the nation and British Columbia and over 120,000 lifetime members!
The Rho Chi Society National Office is now recognized as a 501(c)(3) nonprofit organization. Donations are tax deductible minus the cost of the product received. Tax receipts and merchandise will be emailed to the donor within 90 days.
Join our social media groups!
(Links to groups can be found at the top of this page)
#RhoChiForLife
PATRON PIN ($25 – $99)
Show off your Rho Chi spirit by donating $25 – $99 and display your limited edition PX Centennial pin.
*Donor Pin and Centennial swag included with each package*
BRONZE PACKAGE ($100+)
Donate and receive a limited PX Centennial pin and an embossed Rho Chi journal. Your name will be listed on our virtual donor wall
SILVER PACKAGE ($500+)
Donate and receive a limited PX Centennial Pin and Rho Chi Society engraved Executive Pen. Your name will be listed on our virtual donor wall
GOLD PACKAGE ($1000+)
Donate and receive a limited PX Centennial Pin along with an embossed Rho Chi Journal and an engraved Rho Chi Society Executive Pen. Your name will be listed on our virtual donor wall
PLATINUM PACKAGE ($2500+)
Donate and receive a limited PX Centennial pin and a custom gift from our catalog. Your name will be listed on our virtual donor wall